Nine missing Mexican pollsters freed in Michoacan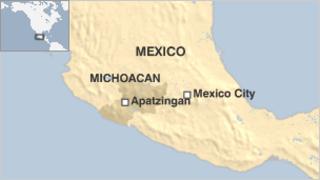 Nine Mexican opinion pollsters have been freed several days after they disappeared in the western state of Michoacan.
The polling firm Parametria said its three employees were released just hours after six workers for Mitofsky Consulting had also been freed.
No details have been given as to who may have held them.
The pollsters disappeared while carrying out surveys in an area known to be a stronghold of drug gangs.
President of Mitofsky Consulting Roy Campos said the five men and one woman who worked for his firm were safe and with their families.
The six had disappeared while working in the city of Apatzingan on Saturday.
The three Parametria employees went missing in the same area on Monday.
Parametria Director Francisco Abundis told local media the captors had held his employees until they had made sure they "weren't people working undercover".
Michoacan Attorney General Jesus Montejano confirmed all nine were now free.
He said their disappearance had been "unusual", and added that no ransom had been paid for their release.
He said he believed their disappearance "could be a linked to one of the criminal groups that operate in the area".
Apatzingan is the stronghold of the La Familia drug cartel, and a rival gang calling itself the Knights Templar.
The area has seen a rise in violence blamed on the break-up of La Familia.
Officials say the killing by the security forces in December of the gang's leader, Nazario Moreno, has severely weakened La Familia.
But analysts say the Knights Templar, an offshoot of the cartel, has taken over many of La Familia's operations.
Apatzingan is at the centre of the battle between the two factions for control of the area's methamphetamine production.