Colombia football coach Hernan Dario Gomez resigns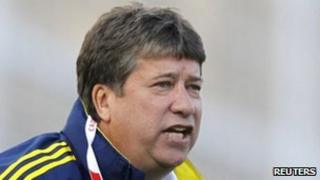 The coach of the Colombian national football team Hernan Dario Gomez, better known as Bolillo, has resigned.
He had been criticised for allegedly hitting a woman, who had reportedly been dismissive of his performance as coach.
Colombia failed to reach the semi-finals at the recent Copa America after losing to Peru.
The Colombian Football Federation has not yet named a replacement for Gomez, but said it would do so soon.
The main sponsors of the Colombian football team, brewers Bavaria, welcomed his resignation.
President of Bavaria's Corporate Affairs Fernando Jaramillo said it was the best decision that could have been taken.
"A sponsor like Bavaria doesn't want Bolillo as coach, not only because of the implications that could have for our reputation but also because of what it could do to the reputation of the country," Mr Jaramillo told Colombian radio.
Eyewitnesses said they saw Gomez leave a Bogota bar Saturday night after allegedly drinking half a bottle of liquor.
They said he started arguing with his female companion outside the bar and hit her at least four times.
'Destroyed'
A man reportedly broke up the fight by grabbing Gomez by the throat and challenging him to "hit a man".
Gomez and the woman later returned to the bar to fetch her handbag.
One of the eyewitnesses told Colombian radio station W about the incident, kicking off a public discussion about Gomez's future as coach of the national team.
Gomez issued a public statement apologising for the incident but said it was a personal matter.
"An attitude like that is never acceptable and less so in someone like myself who has never been involved in anything like this in my 26-year career in professional football," he wrote.
On Monday, the Colombian Football Federation called the incident "lamentable" but said it would not get involved in a personal matter.
But under continuing public pressure and in the face of a lack of support from the team's main sponsors, the federation accepted Gomez's resignation on Tuesday.
Gomez told Colombian daily El Tiempo he was "destroyed" by what had happened.
The Colombian Football Federation said it would hold an extraordinary session to find a new coach as soon as it was done hosting the Fifa U-20 World Cup currently taking place in the country.