Colombian negotiator Piedad Cordoba flees death threats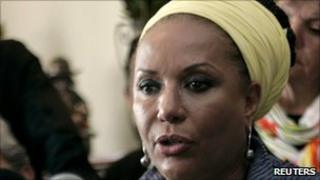 Colombian peace campaigner and former Senator Piedad Cordoba has left the country after receiving death threats.
She has negotiated the release of a number of hostages held by the Farc guerrilla group, but the government accused her of helping the rebels.
She was banned from public office for 18 years.
Ms Cordoba's lawyer said the death threats had intensified following her latest attempts to get the rebels to the negotiating table.
Lawyer Luis Guillermo Perez said the intimidation had been "constant, and she was told an attack was being planned to kill her".
Mr Perez said the number of threats against Ms Cordoba had mounted over the past couple of weeks at the same time as she received increased media attention due to a letter her organisation sent to the Farc and ELN rebels.
In it, Colombians for Peace urged the two left-wing guerrilla groups to release the hostages they still hold to pave the way for negotiations.
'Foreign meddling'
Ms Cordoba has in the past expressed fears that supporters of former Colombian president Alvaro Uribe may target her.
There has been a high-profile and public rift between the two politicians for years.
Ms Cordoba has been a staunch critic of Mr Uribe's security policies. She accused the armed forces of human rights abuses and collaboration with illegal right-wing paramilitaries.
Mr Uribe has been highly critical of Ms Cordoba's links with Venezuelan President Hugo Chavez.
The Venezuelan president played a part in the negotiations which Ms Cordoba conducted with the Farc which led to the release of six hostages in 2008.
Mr Uribe accused her of undermining his government by helping President Chavez "to meddle in Colombian affairs".
Ms Cordoba is one of the people, alongside judges, opposition politicians and journalists, whose phone was illegally hacked by the Colombian secret police, DAS, under Mr Uribe.
Giving evidence before a congressional commission on Thursday over the illegal wiretaps, Mr Uribe admitted asking the DAS to investigate Ms Cordoba.
He said he had done so after one of her bodyguards had been killed and she accused the state of ordering the killing.
Ms Cordoba's lawyer said the publicity surrounding Ms Cordoba and the wire-tap investigation had probably contributed to the increase in the number of threats against her.