Troops to boost security in Monterrey after casino fire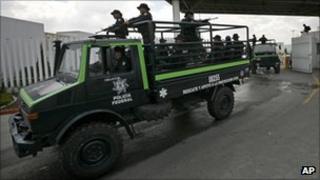 Three hundred soldiers have arrived in the northern Mexican city of Monterrey after 52 people were killed in an arson attack on a casino on Thursday.
Officials said 1,500 police were also on their way to boost security and help with the investigation.
Prosecutors have released images of three suspects wanted in connection with the attack, and have offered a 30m peso ($2.4m, £1.47m) reward.
Mexican President Felipe Calderon called the attack an act of terrorism.
Several gunmen burst into the building in broad daylight on Thursday, dousing it with fuel and setting it alight.
One survivor described the chaos which ensued.
"You couldn't see and the smoke was choking us. Some people didn't reach the exit and fell just metres from the door," the woman said.
Another woman who managed to escape said there was complete panic.
"We all wanted to get out at the same time, there was a lot of pushing and we fell to the floor," she told Mexican media.
"I just heard explosions and ran to save my life".
Rescue workers said they had finished searching the building for bodies.
State authorities said 52 people had died in the attack, of which 45 have been identified.
They said DNA test would have to be carried out on the remaining seven bodies, as they were so badly burned they could not be identified.
Civil Protection official Jorge Camacho said 17 of the victims were male and 35 female, of which one was pregnant.
Mr Camacho said the majority of the bodies had been found in the toilets and offices of the casino, where terrified employees and customers had hidden when they heard the gunmen break in.
He said many were overcome by the smoke which spread rapidly through the building and had suffocated.
Some reports suggested the emergency exits had been locked.
Criminal links
Officials with the state Prosecutor's Office said between eight and nine armed men had taken part in the attack.
They have released photo-fit images of three of the suspects.
Officials suspect organised crime was behind the attack.
They are investigating if the casino had links to known criminals, or if its owners may have been targeted because they had refused to pay extortion fees to local gangs.
On Saturday, federal police and soldiers raided 11 casinos in Monterrey and its surroundings.
At the Miravalle Palace, personnel from the Tax Administration Service seized some 700 slot machines.
Officials said the agents also checked the casinos' legal status.
Mexican President Felipe Calderon said it was "evident that we are not facing common criminals".
"We are facing true terrorists that have crossed all the limits, not only of the law, but also of common sense and respect for life," he said on Friday.
'Brave fight'
US President Barack Obama also condemned the attack, reinforcing his commitment to helping Mexico combat criminal groups.
"The people of Mexico and their government are engaged in a brave fight to disrupt violent transnational criminal organisations that threaten both Mexico and the United States," he said in a statement released by the White House.
"The United States is and will remain a partner in this fight."
State Attorney General Leon Adrian de la Garza said a drug cartel was believed to be behind the attack.
Home to some of Mexico's largest companies, Monterrey and the state of Nuevo Leon have seen rising violence as the Zetas and Gulf cartels vie for control of trafficking routes to the US.
The drug gangs are also increasingly involved in kidnapping and extortion.