Chilean president seeks answers on protest death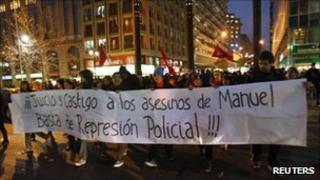 Chilean President Sebastian Pinera has reiterated his government's determination to clarify the events that led to the killing of a teenage boy during anti-government protests.
Manuel Gutierrez Reinoso, 16, was shot on Thursday and died the following day.
Witnesses say he was shot by the police, and the authorities have launched an investigation.
It was the first fatality in months of social unrest in Chile, which has involved protests on many issues.
Hundreds of people attended Mr Gutierrez's funeral on Sunday, and student unions have declared Monday a day of mourning.
'Constructive dialogue'
"The government is doing everything necessary to shed light on the circumstances and the responsibility for that death," President Pinera declared at a public event.
He also called for a "constructive dialogue aimed at finding solutions" to the series of protests.
The protests in Chile were initally triggered by students demanding free education but have grown into a more general movement demanding constitutional reform, improved pension provision, new labour laws and corporate tax increases to pay for education and health.
On Sunday, student leaders agreed to meet the president later this week, to discuss their demands.
Student groups have been protesting for weeks to press for changes to the education system, arguing the current one is under-funded and unequal.