Hugo Chavez upbeat as he undergoes more chemotherapy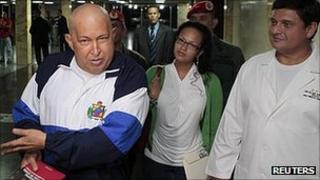 Venezuelan President Hugo Chavez has stressed that he will beat cancer after having a third round of chemotherapy.
He was treated at a hospital in the capital, Caracas, in contrast to two previous treatments and initial surgery to remove a cancerous tumour in Cuba.
"I'm doing well, being well taken care of," he told state television, VTV.
His illness has caused political uncertainty in Venezuela, casting some doubt on whether he will be able to stand for re-election next year.
Mr Chavez, 57, was admitted to the Dr Carlos Arvelo Military Hospital on Saturday.
Speaking to VTV by phone on Monday, he said he finished up "what I call the bomb...the chemotherapy's bombing".
Earlier, he used his Twitter account to say medical tests ahead of the chemotherapy had gone well.
President Chavez underwent surgery in Cuba in June to remove a tumour from his pelvic region. However, he has not disclosed the exact nature of the cancer.