Chilean police chief Gen Gordon resigns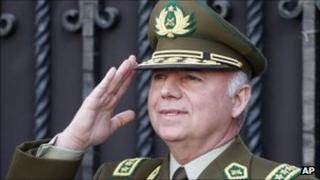 Chilean police chief Gen Eduardo Gordon has resigned following allegations that he had interfered in a police investigation involving his son.
A report on Thursday alleged he had requested the deletion of his son's name from an investigation into a traffic accident in 2010 in which he was allegedly involved.
Gen Gordon denies the accusation.
He had also faced pressure over an incident last week in which police killed a young protester in Santiago.
'Never intervened'
Gen Gordon announced his resignation following a meeting with President Sebastian Pinera, but denied interfering in the traffic case.
"I have never intervened in any decision of any kind involving someone close to me," he said.
Gen Gordon had also been struggling with the fall-out from the death of 16-year-old Manuel Gutierrez, who was shot dead on 25 August during anti-government protests.
Miguel Millacura have been charged with the murder, while eight other police officers were sacked, including a police general, Sergio Gajardo, who initially ruled out an internal inquiry into the incident.
It was the first fatality in months of social unrest in Chile.
The protests were initially triggered by students demanding educational reform but have grown into a more general movement demanding constitutional reform, improved pension provision, new labour laws and corporate tax increases to pay for education and health.