Cuban Defence Minister Julio Casas Regueiro dies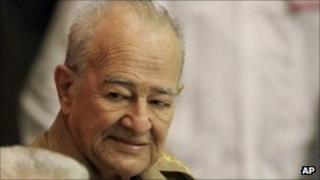 Cuban Defence Minister Julio Casas Regueiro, a veteran of the revolution, has died of heart failure, aged 75.
He oversaw the Cuban military's economic activities until 2008, when President Raul Castro made him defence minister.
Julio Casas Regueiro was an accountant who fought under Raul Castro's command against Fulgencio Batista, who was ousted in January 1959.
State television in Cuba has declared three days of mourning.
A statement by the Cuban Politbureau, read on state television, said Gen Casas Regueiro died of cardiac arrest on Saturday.
It said his remains were cremated, according to his wishes.
"The general was characterised by his loyalty to the [Communist] Party, the people, the Revolution, his Commander in Chief and the Head of the Armed Forces, Raul Castro Ruz," said the statement.
He trained as an accountant but in the late 1950s gave up his job to join Fidel Castro's rebel army.
He served directly under Raul Castro's command in the eastern Sierra Maestra mountains.
Later he rose to prominence as head of the financial and economic operations of the Cuban Revolutionary Armed Forces.
The military is the most powerful single economic force on the island.
When Raul Castro, who had been the world's longest serving defence minister, took over the presidency from his ailing brother Fidel, Gen Casas Regueiro was promoted to the top military job.
He was a member of the Communist Party Politbureau and a vice president of the Council of State, the island's supreme governing body.
The BBC correspondent in Havana, Michael Voss, says the death of Julio Casas Regueiro on Saturday is likely to renew speculation about the health of the rest of the ageing leadership.
President Raul Castro is 80 years old, as is Jose Ramon Machado Ventura, the first vice-president of the Council of State and the Council of Ministers in Cuba.
Fidel Castro, who no longer holds any official positions, is 85.
He has not been seen in public since April and has not written any of his newspaper editorials for the past two months.