Colombian President Manuel Santos shakes up military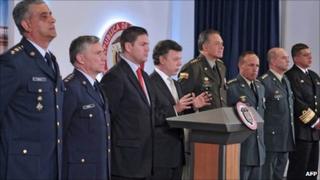 Colombian President Juan Manuel Santos has appointed new military commanders, as the defence ministry gets an extra $840m (£525m) in funding.
Gen Alejandro Navas is to be the head of the armed forces, and there are new chiefs of the army, navy and air force.
The changes had been expected after a recent upsurge in rebel attacks.
Defence Minister Juan Carlos Pinzon, sworn in on Monday, has promised new strategies to combat armed groups.
"I'm sure this team... will be a top team who will be at the minister's side and in charge of the armed forces, bringing a great peace of mind to the country," President Santos said as he announced the changes.
Army Gen Navas, a counterinsurgency expert, replaces Adm Edgar Cely as military chief.
Mr Santos said that not only did the new commanders know one another well, but he had worked closely with them while defence minister and now as president.
In recent years, Colombia's security situation has improved markedly.
Backed by aid from the US, the armed forces have regained control of large areas of the country from the Revolutionary Armed Forces of Colombia (Farc) and killed several of their top commanders.
President Santos took office last year promising to maintain the tough security policies of his predecessor, Alvaro Uribe.
But rising casualties among the security forces in recent months have fuelled the perception that the Farc and the smaller ELN rebel group are reversing some of those gains, correspondents say.
Mr Pinzon has said 1.5 trillion pesos (some $840m) will be added to the overall budget. This is currently some $3.2bn.
The money was to aid the fight against rebel groups and criminal gangs, he said.