Extra troops sent to Rio slum after gunfight erupts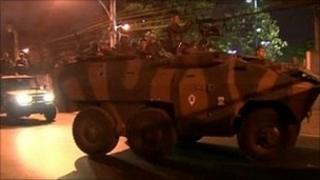 Extra police and troops have been sent to a Rio slum after soldiers patrolling as part of a security operation came under fire, Brazilian officials say.
A 15-year-old girl was reported to have been killed during the shooting, which erupted on Tuesday evening.
The Alemao slum, a stronghold for drug traffickers, was retaken by security forces in November as part of what is known as a pacification programme.
This aims to make Rio safer ahead of the 2014 World Cup and 2016 Olympics.
Some 50 heavily armed men from a nearby slum open fired at security forces in the Complexo do Alemao shantytown, Brazilian media reported.
A local woman told reporters her niece had been killed by a stray bullet.
"I'm very angry because I was born and raised here and no one in my family has ever been killed in shootings. Now that (the slum) has been pacified, I'm seeing one of them killed. Where's the state? Where are the authorities?" she said.
Other residents said people had been injured in the shooting.
"I'm in favour of having soldiers in Alemao, but I'm afraid. I still don't feel safe here," resident Natanael Duarte told the G1 website.
In recent days, tension had been growing in Alemao, with some residents complaining of overly aggressive policing.
Last November's security operation to take control of Alemao, which is a complex of a dozen or so neighbourhoods, was hailed as a big blow against Rio's drug gangs.
Soldiers have since continued to patrol the streets to try to stop traffickers from returning.