US Justice Department criticises Puerto Rico police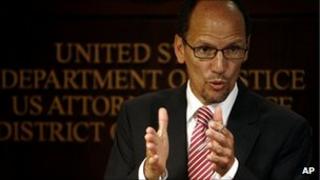 The police in Puerto Rico regularly use excessive force and commit other violations, the US Justice Department says.
A report based on a three-year investigation concluded that the Puerto Rico Police Department was a "broken force" in urgent need of reform.
Puerto Rico's governor, Luis Fortuno, said he agreed with the findings.
The US Caribbean island territory is battling a surge in violent crime linked to drug trafficking.
But the report said this did not make abuses acceptable.
"Increasing crime cannot be used to justify continued civil rights violations or the failure to implement meaningful reforms," it warned.
The Justice Department investigation was launched three years ago after a police officer was filmed shooting an unarmed suspect.
It found a pattern of unconstitutional behaviour including excessive use of force and illegal searches and arrests.
It also said the Puerto Rican police frequently failed to investigate sex crimes and domestic violence, and often discriminated against immigrants from the Dominican Republic.
Transformation
"The Puerto Rican Police Department has deep and profound problems," said Thomas E Perez, head of the Justice Department's Civil Rights Division.
"Our findings should serve as a foundation to transform the police department and to help restore the community's trust in fair, just and effective law enforcement," he added.
Governor Fortuno said he agreed with the report's findings and had already begun to implement some of its recommendations.
"We recognise our failings. We are training the police to respond to the problems shown in the report," he said.
In July Mr Fortuno sacked the island's police chief in frustration at the force's inability to control crime.
The force has also been plagued by corruption.
Last October more than 70 officers were arrested on drugs-related charges.
Puerto Rico is a major transit point for people smuggling cocaine into the US from South America.
It is also suffering from a wave of violent crime, with nearly 800 murders reported so far this year.