Guatemala votes for new president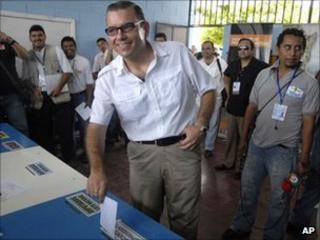 Polls have closed in Guatemala's presidential election.
Former army general Otto Perez Molina of the right-wing Patriotic Party took the lead in early results - polling 37%, with 5% of votes counted.
Mr Perez Molina - who has promised to be tough on crime - would need more than 50% of the vote to avoid a run-off vote in November.
Whoever wins will face the challenge of rising violence, much of which is attributed to local and Mexican gangs.
Mexican cartels have expanded operations into the Central American nation, which is an important transit point for drugs smuggled from South America to the US.
Controversial divorce
A record 7.3 million voters were registered to cast their ballots before polls closed at 18:00 (00:00 GMT) on Sunday.
The first official results are expected in the coming hours.
Mr Perez Molina was hopeful that he might manage to win outright in the first round.
"We see a significant possibility of winning in the first round but it depends on the will of the Guatemalan people," he said, after voting in the capital, Guatemala City.
If he manages to win without a second round, it would be the first such victory since the country returned to civilian rule in 1986.
Opinion polls before the election showed that Mr Perez Molina's closest rival was businessman Manuel Baldizon, followed by physicist and mathematician Eduardo Sugar. All are right-leaning.
The only left-wing candidate running for office is Rigoberta Menchu, the indigenous human rights activist who won the Nobel Peace Prize in 1992.
Mr Perez Molina has had a commanding lead since Sandra Torres, the former wife of outgoing President Alvaro Colom, was excluded from running, observers say.
Ms Torres filed for divorce in March - a move critics said was to avoid a constitutional ban on close relatives of the president running for the post.
But Guatemalan judges ruled last month that, despite her divorce, Ms Torres' candidacy still violated the constitution and she was therefore ineligible.
Some candidates, including Mr Perez Molina, have accused President Colom of not being tough enough on organised crime - claims the president rejects.
Guatemala, one of the poorest nations in Latin America, is beset by gang violence and increased drug-trafficking operations on its territory.
It suffers the highest rate of child malnutrition in the region - half of all children under five are malnourished.