US envoy Richardson to leave Cuba without seeing Gross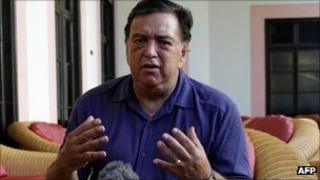 Former New Mexico Governor Bill Richardson says he will leave Cuba on Wednesday after failing to secure the release of a jailed US aid contractor.
Mr Richardson said he was "very disappointed" that he had not been able to meet Alan Gross or discuss his case with the authorities.
Mr Gross is serving 15 years for bringing internet equipment into Cuba.
The case has frozen US-Cuba relations, after a brief warming under president Barack Obama.
Mr Richardson - who sometimes acts as a diplomatic troubleshooter - last week vowed not to leave the communist-run island without seeing Mr Gross.
But on Tuesday he said he had tried several avenues to gain an audience with the prisoner without success.
"My conclusion is that maybe the Cuban government has decided that it does not want better relations with the US," he said.
"Maybe that is the message they are sending to a friend, or maybe now an ex-friend," he added.
No concessions
Mr Richardson sad he had travelled to Cuba in a personal capacity at the invitation of the Cuban government.
He had wanted to persuade the Cubans to release Mr Gross on humanitarian grounds.
The prisoner's family say his health has suffered in captivity, and both his wife and one of his daughters have cancer.
Alan Gross, 62, was arrested in December 2009 for distributing illegal communications equipment in Havana.
Last March he was convicted of crimes against the communist state.
He says he was just trying to help Cuba's small Jewish community get access to the internet.
Gross was in Cuba working as a contractor for the US Agency for International Development (USAID) on a secretive programme aimed at promoting democracy in Cuba.
Last month, Cuba's Supreme Court upheld his sentence, saying he was part of a programme aimed at "subverting" and "destabilising" the communist system.
The US has made clear that there can be no further improvement in relations with Cuba until Mr Gross is released.