Monterrey casino arson attack policeman's family killed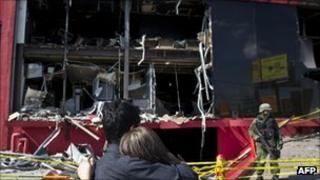 Gunmen in northern Mexico have shot dead three relatives of a police officer being held over a deadly arson attack on a casino last month.
The officer's father, stepmother and stepbrother were killed in their home in the city of Monterrey.
Police believe it was an act of revenge by the Zetas drugs cartel, after the officer named gang members allegedly involved in the casino attack.
The blaze killed 52 people and caused revulsion across Mexico.
Police officer Miguel Angel Barraza is one of six suspects detained in connection with the 25 August arson attack on the Casino Royale in Monterrey.
The other five are all alleged to be members of the Zetas cartel, which is thought to have torched the casino after its owners refused to pay protection money.
Outrage
The murder of the family came on a day of violence in and around Monterrey, in which at least 15 people were killed.
Monterrey and the state of Nuevo Leon have seen rising bloodshed as the Zetas and Gulf cartels vie for control of trafficking routes to the US.
The casino attack was one of the deadliest episodes of violence since President Felipe Calderon launched his crackdown on drug gangs in late 2006.
Gunmen burst into the crowded casino in broad daylight and doused it in petrol before setting it alight.
Panic ensued as people rushed for the exit. Many were overcome by smoke as the building was engulfed in flames.
The attack caused outrage in Mexico, a country that has become accustomed to drug-related violence, with around 40,000 killed in less than five years.