Bolivians to resume road march amid confrontation fears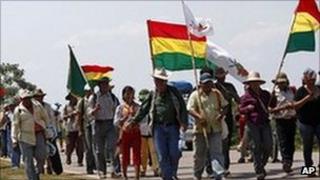 Indigenous protesters in Bolivia say they are resuming a march against a new road, a day after calling a temporary halt amid fears of confrontation.
They have been walking for weeks in protest at government plans to build a road through their land.
Hundreds of police officers and government supporters have set up road blocks on the route to prevent them reaching Bolivia's main city, La Paz.
There have been several failed attempts at dialogue with the government.
For more than a month, the column of indigenous people has been advancing at a snail's pace on La Paz, more than 500km (310 miles) from its starting point in Bolivia's lowlands.
The protesters say they were not consulted before the construction of the highway began.
After unsuccessful attempts to start talks, hundreds of police officers have been sent to the town of Yucumo, halfway along the route of the march, to prevent the protesters from coming further.
"We fear that the police may assault us. So we don't want to risk it," one of the protesters, Ernesto Sanchez, told the BBC on Monday.
"There are women and children among us. And the police may use tear gas. That's what we're afraid of."
Behind the police cordon, hundreds of government supporters have set up roadblocks.
They say the highway is essential to bring progress and much-needed integration to the country.
Critics of the project say President Evo Morales is alienating his indigenous support base, and that the road will destroy the very environment that the president says he wants to protect.