Guatemala landslide kills three children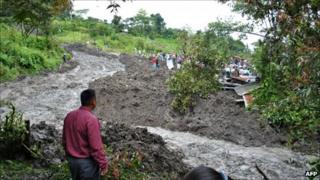 Three children have been killed in a landslide in Guatemala, with at least 12 other people missing.
Police said two brothers and a sister, aged between four and seven, died when mud buried their home in Santa Cruz Barillas, in the north-western state of Huehuetenango.
The children's mother and their three-month old brother survived.
The landslide happened a day after four earthquakes, shook the south of the country in quick succession.
Rescuers are searching for a dozen or so people feared buried under the rock and earth that fell on homes in Santa Cruz Barillas.
Landslides are not uncommon in Guatemala.
Last September, the government declared a state of emergency after days of rain caused widespread flooding and landslides.
The worst landslide in 2010 buried a packed bus as it travelled on the main Inter-American highway, killing 10.