Hugo Chavez back in Venezuela after final chemotherapy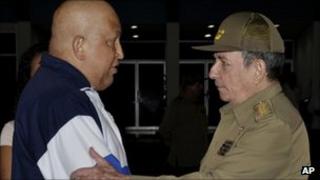 Venezuelan President Hugo Chavez has returned home from Cuba after having what he says was a successful final round of chemotherapy for cancer.
"I feel like I have been born again," he said on his arrival in Caracas.
In June Mr Chavez had surgery in Cuba to remove a tumour from his pelvic region, and has since had four sessions of chemotherapy.
Mr Chavez, 57, has said his condition will not stop him standing for re-election in October next year.
The exact nature and severity of his cancer has not been made public.
But, speaking on his arrival at Caracas' Maiquetia international airport, the Venezuelan leader said the chemotherapy treatment had been successful.
"Successful results, satisfactory results, all the vital signs very positive," he said to applause from officials who had gathered to welcome him home.
"We can say, thanks to these results, that we have finished the chemotherapy cycle".
While in Havana for treatment Mr Chavez held talks with his close allies Cuban President Raul Castro and his brother Fidel.
The left-wing leader has governed Venezuela since 1999 and says he wants to remain president until 2025 to complete his socialist "revolution".
"I am going to continue assuming my government work at an adequate pace, leading the government, leading the state, leading the revolutionary movement," he said.
Secrecy over the exact nature of his cancer has fuelled speculation that his condition may be worse than officially stated.