Outgoing Jamaica PM says 'Dudus Coke' case took toll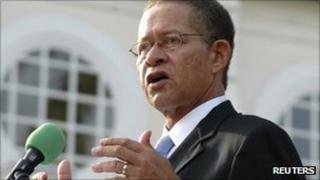 Jamaican Prime Minister Bruce Golding says questions over his handling of a US extradition request for a drug kingpin were a key factor in his decision to step down.
The saga over Christopher "Dudus" Coke affected him deeply, Mr Golding said.
The Jamaican government resisted US requests for Coke for nine months before launching an operation to capture him in which scores died.
Coke was extradited in June 2010 and pleaded guilty to racketeering charges.
Mr Golding's surprise decision to resign was announced last week.
Speaking in a nationally televised address on Sunday, the prime minister made it clear that events in 2009 and 2010 over Coke had been a key factor.
"The entire episode has affected me deeply and the perceptions that are held by some people have not been dispelled," Mr Golding said.
Gun battles
The prime minister repeated that he opposed extraditing Coke because the US indictment relied on illegal wiretap evidence.
"It was never about Coke's guilt or innocence. It was about a breach of our constitution and had it been a person other than Coke it perhaps would never have become the cause celebre that it turned out to be," Mr Golding said.
After months of delays and amid growing local and international criticism, Mr Golding agreed to extradite Coke and signed an arrest warrant.
However, gunmen loyal to Coke in the Tivoli Gardens area of Kingston, Mr Golding's parliamentary constituency, barricaded the streets and mounted attacks against the police.
A state of emergency was declared and 76 people were killed in four days of gun battles before Coke was arrested in May 2010.
Coke pleaded guilty to racketeering charges in a New York court in August. He will be sentenced in December and could face up to 23 years in prison.
Mr Golding, in office since 2007, is due to step down officially next month after his Jamaica Labour Party chooses a successor.
An election is constitutionally due by December 2012.