Two severed heads found in Mexico City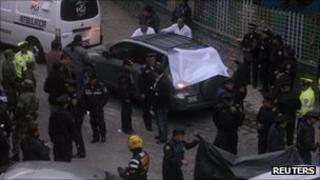 Two severed heads have been found near the main military base in Mexico City.
Prosecutors said a message had been left nearby signed by a criminal gang calling itself The Hand with Eyes.
It warned that after the arrest of the gang's alleged leader in August, a new leadership had taken over and established itself in Mexico City.
Decapitations by drug cartels are frequent in violence hot-spots such as Ciudad Juarez and Acapulco, but they have been rare in Mexico City.
The last time severed heads were found in the capital was in December 2007 and January 2008, when four were dumped near the airport.
Those decapitations were believed to be related to a drug shipment that had been seized at the airport.
Confession
Mexico City Attorney General Miguel Mancera said one of the heads found on Monday had been placed on the hood of a car, while the other was found on a nearby pavement.
The heads were found just before dawn near a busy ring road across from the Mexican army's headquarters.
Mr Mancera said the killings were probably linked to small-scale drug trafficking. He said the victims were male and aged between 20 and 30 years old.
Near the heads, police found a message by The Hand with Eyes (La Mano con Ojos) criminal gang.
The gang's alleged leader, Oscar Osvaldo Garcia Montoya, was captured in August.
He has confessed to carrying out 300 murders, and ordering another 300.
He also admitted working for the Beltran Leyva drug cartel, but said he had set up his own gang after all but one of the brothers leading the cartel were killed or captured.