Mexican navy detains police agents 'with cartel links'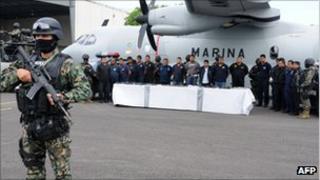 Security forces in Mexico have arrested 18 police officers accused of working with the Zetas drugs cartel.
Marines arrested the agents in eastern Veracruz state, along with nine fugitives who escaped from a jail in the same region two weeks ago.
The marines said one of the police commanders carried a detailed list of officers in the pay of the cartel.
The Mexican government is increasingly deploying the navy and the army to root out corruption in the police.
The arrests were made over the past five days.
The navy said a tip-off by a local resident led them to the small village of Rancho Viejo, where the nine fugitives were hiding.
A navy press release said they were planning on joining the Zetas cartel, with which they had already made contact.
They had escaped from La Toma jail in Amatlan de los Reyes on 19 September.
Navy officials said the 18 police agents arrested on suspicion of corruption had been receiving between 2,000 and 10,000 pesos ($140-$720; £90-£470) each per month in pay from the Zetas.
Prosecutors said they carried out protection duties and acted as look-outs for the Zetas.
They all belonged to the municipal police force.
Poorly paid and poorly trained, they are widely considered to be the force most prone to corruption.