Body of Venezuela ex-leader Carlos Andres Perez returns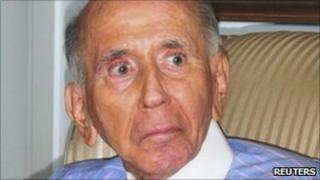 The body of former Venezuelan President Carlos Andres Perez has arrived in the country, nine months after his death in the US prompted a bitter family feud.
When he died in exile in Miami aged 88, his estranged wife, Blanca Rodriguez de Perez, insisted she had the right to bring his body home.
But his long-term partner, Cecilia Matos, said he had vowed not to return as long as Hugo Chavez was president.
She later relented, saying she would not oppose a burial in Venezuela.
Mrs Perez had obtained a court order to stop him being buried in Miami until the dispute was resolved.
Corruption conviction
The coffin containing Perez's remains, draped in a Venezuela flag, arrived at Caracas airport late on Tuesday and was met by supporters.
The body was then carried away in a hearse to the capital.
In the US, the remains were kept in a mortuary and temporary mausoleum.
The BBC's Sarah Grainger in Caracas says the burial of the former president will be a very political affair.
His body will lie in state at the headquarters of his Democracy Action party to allow people to pay their respects, before a public funeral on Thursday at a cemetery in the capital.
Perez was twice Venezuela's president, from 1974 to 1979 and again between 1989 and 1993.
His first term was marked by a transformation of Venezuela's economy because of a sudden increase in oil revenues.
But the second was marred by allegations of corruption.
Forced to leave office in 1993, he was then sentenced to 28 months in prison for misappropriation of public funds.
He spent the first few months in a jail in Caracas, but was then allowed to serve the rest of his term under house arrest. Perez always denied any wrongdoing.
He had survived two coup attempts in 1992, the first of which was led by Mr Chavez, who was then an army lieutenant-colonel.
Based in Miami, Perez fought attempts to extradite him to stand trial for his role in putting down riots in 1989.
He was accused of sending troops into the streets to fire indiscriminately on protesters during the so-called Caracazo riots.