Hugo Chavez revives Venezuela election coalition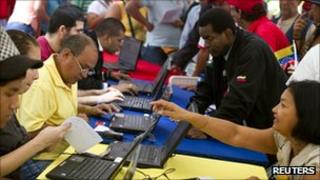 Venezuelan President Hugo Chavez has relaunched a left-wing political coalition designed to help him win reelection in exactly a year's time.
Grassroots organisations and smaller parties are being invited to sign up to the Great Patriotic Pole alongside the governing Socialist Party.
"This is a milestone in the course of the socialist revolution," Mr Chavez said at a ceremony in Caracas.
Mr Chavez has been in power since 1999, winning repeated election victories.
The 57-year-old leader says he is determined to win another term, despite having had surgery for cancer in June.
"We are going to give the bourgeoisie a beating!" he told supporters at the ceremony in the Miraflores presidential palace, where he danced and joked with local rappers.
Political parties, trade unions and other social movements have several weeks to sign up to the Patriotic Pole, which is designed to shore up support for Mr Chavez ahead of the elections in October 2012.
He is likely to face a strong challenge from opposition parties, which in February will choose a single candidate to stand against him.
The opposition is hoping to capitalise on discontent over high levels of violent crime and rising inflation.
Favourite
But Mr Chavez retains widespread support, particularly among poorer Venezuelans who have benefited from increased spending on health and education.
Opinion polls suggest he could win 60% of the vote in the October 2012 election. His illness has won him widespread sympathy.
But it has also raised concerns over whether he will be well enough to lead an effective campaign and govern Venezuela for another six-year term.
Earlier this week Mr Chavez dismissed rumours that he had been taken to hospital with kidney failure linked to his cancer treatment.
He says he is recovering his health after surgery and chemotherapy in Cuba.
But the exact nature and severity of his cancer have not been made public.