Brazil police seize half tonne of cocaine in north-east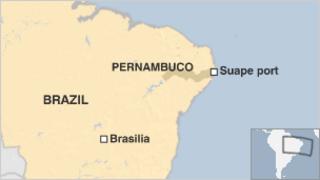 Brazilian police have made a major cocaine seizure in the port of Suape in the north-eastern state of Pernambuco.
The haul of more than half a tonne was found in bags hidden in containers at the port, officials said.
Police believe the drug came from either Colombia or Bolivia and was destined for Europe via Africa.
Brazil is a major transit point for smugglers moving South American cocaine into Europe's lucrative drugs market.
The illegal shipment was discovered at the weekend when a sniffer dog detected the drug.
Officers found some 30 bags of cocaine hidden among some 3,500 sacks of plaster in containers.
So far, the authorities estimate the illegal shipment to be some 530kg, which would make it the largest seizure to date in the north-east of the country.