Calderon comments spark Mexico drugs war row with PRI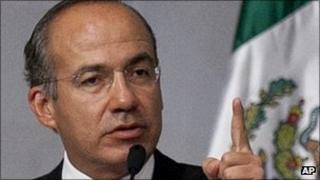 Mexican President Felipe Calderon has sparked a political row by suggesting the main opposition party, the PRI, might consider deals with drugs gangs if it wins the presidency in 2012.
Mr Calderon made the comments in an interview with the New York Times.
PRI politicians have dismissed the suggestion as absurd, and demanded a retraction and apology.
The PRI ruled Mexico for 70 years until 2000, and is favourite to return to power at elections in 2012.
The party has previously been accused of making secret deals with drugs gangs while it was in power to keep the peace in Mexico, though it denies this.
The PRI has been critical of Mr Calderon's policy of deploying the army to fight the cartel, saying it has fuelled drug-related violence in which more than 40,000 have been killed during his five years in office.
'Irresponsible'
In the New York Times interview, Mr Calderon was asked whether the PRI might fall into a corrupt relationship with organised crime if it won the presidency.
"It depends on who it is," he replied.
"There are many in the PRI who think the deals of the past would work now. I don't see what deal could be done, but that is a mentality that many of them have".
The PRI's spokesman in the senate, Carlos Jimenez Macias, dismissed the accusation as electioneering.
"it is absurd and irresponsible to make a statement of that kind," he told the Mexican newspaper El Universal.
President Calderon should either present evidence or withdraw the remark, he added.
Correspondents say Mr Calderon's comments are unusual, as Mexican presidents are expected to remain above party politics.
Mr Calderon is not standing for re-election as Mexico's constitution limits presidents to one six-year term.
But he has stepped up his defence of his military approach to tackling the drugs cartels, which is widely seen as the defining policy of his presidency.
Asked by the New York Times if he would be remembered for the spiralling violence, Mr Calderon said it was possible that some would remember him that way.
"But if Mexico triumphs as I am sure it will, if Mexico subdues the criminals and reconstructs its social fabric, there will also be those that remember me as the president who dared take on the criminals".