Argentina's Cristina Fernandez rides wave of support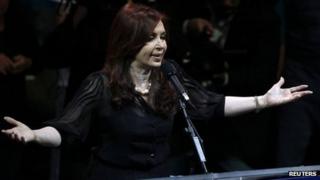 A year ago, Argentine President Cristina Fernandez was plunged into grief when her husband and predecessor as president, Nestor Kirchner, died after suffering a heart attack.
Twelve months on, Ms Fernandez is still in mourning. But riding a wave of support after his sudden death, she is likely to be re-elected in Sunday's presidential poll.
Some opinion polls have even suggested she could secure a historic landslide victory.
That would be a huge turnaround for Ms Fernandez.
During her first year in government in 2008, her popularity plummeted to about 20% following a bitter dispute with farmers and a split with Clarin, the country's biggest media group.
The enmity with Clarin continues to this day but tensions with the farmers have eased.
A number of developments help to explain President Fernandez's resurgence in the opinion polls.
She faces a weak and fragmented opposition. She has also presided over economic growth - some 9% last year and a similar rate forecast for this year.
Sympathy vote?
But for many analysts, the most important factor has been Nestor Kirchner's death.
"His death rescued Cristina. I strongly believe that it had much more influence on her popularity than the good results posted by the economy in recent years," says Marcos Novaro, director of the Centre for Political Research.
Nestor Kirchner was president from 2003 to 2007, standing aside to let his wife run for office to succeed him.
In return, he was widely expected to run again for the presidency in 2011.
During Ms Fernandez's early years in office, it was suggested that it was Mr Kirchner who was really running the country.
"When she first ran for president in 2007, her campaign was somehow diluted by her husband's presence. But when he passed away, Cristina started to be seen as a strong and independent political figure," says Mr Novaro.
"She has had a change in attitude when talking to the people. Many used to describe her as 'distant' and 'arrogant'. But since her husband died she has come to be perceived in a more humane way," says Analia del Franco, director of polling company Analogias.
"Now it is common to see her airing her own mistakes or flaws like any common person, when addressing the crowds. And these details have increased the public's sympathy towards her," says Ms del Franco.
During her campaign, Ms Fernandez has referred to her husband's role in rescuing Argentina's economy from its near collapse in 2001 and how she has continued to focus on state spending.
"There are good economic prospects and there is a perception that there is a better quality of life. Unemployment has also gone down and there are subsidies which have boosted consumption levels in the country," says Graciela Romer, director of market research company Romer and Associates.
"Although she is clearly popular with the poor, people in the middle and upper middle classes have also benefited from the economy's performance," says Ms Romer.
Inflation fears
Two-thirds of the Argentine economy depend on commodity exports, such as soy bean, or industrial goods, like cars.
Both areas have done well in recent years, with particularly high demand for commodities from China.
This has given the government the resources to redistribute wealth via subsidies or social programmes for those in need.
"Her government, and her late husband's, channelled a significant amount of resources into social programmes. These expenditures have had a direct impact on the people," says Ms del Franco.
Currently, each child in a poor Argentine family receives a state grant of US$50 (£31) per month. More than three million children are now enrolled on this programme.
There is also a government scheme to give free laptops to children from deprived areas, which has proved extremely popular.
But the boost in economic growth and consumption levels has also brought high inflation.
Argentina has the second highest inflation rate in Latin America, second only to Venezuela.
According to the government, it now runs at slightly over 10%, a claim disputed by private analysts who believe it is really more than 20%.
Tackling inflation will be one of the key challenges facing President Fernandez if, as widely forecast, she secures a second term on Sunday.