Venezuela's Hugo Chavez says he is free of cancer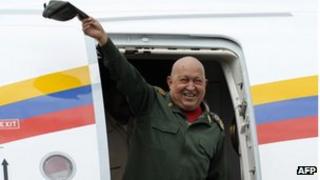 Venezuelan President Hugo Chavez has said he is free of cancer after returning from health checks in Cuba following four cycles of chemotherapy.
He travelled to the island four months ago to have surgery for cancer there.
"Everything went perfectly. I got top marks, 20 out of 20," he told reporters.
Mr Chavez had previously described his treatment as successful. But secrecy about his illness fuelled speculation it may be worse than officially stated.
"I am free of illness," Chavez said in an address to Venezuelans after arriving in the town of La Fria in western Venezuela.
He later made a pilgrimage to a Catholic shrine, Santo Cristo de la Grita, as a gesture of thanksgiving.
"The new Chavez is back ... We will live!" he declared.
His return from Cuba was broadcast in a special transmission on Venezuelan television and radio stations.
The 57-year-old leader, who has been in power since 1999, says his illness will not stop him from standing for re-election next year, and winning.
Mr Chavez has transformed Venezuela with sweeping nationalisations.
His reforms have made him popular with many poor people, but critics say he wants to install Cuban-style communism in Venezuela.
Last month, he denied US media reports that he had been rushed to hospital with kidney failure linked to his cancer treatment.
He has so far given no details of his illness and doctors warn that patients must generally wait at least two years after treatment before they can be considered out of danger.