Mexico's Calderon: US dumping criminals at border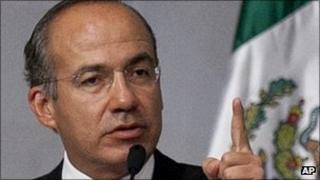 Mexican President Felipe Calderon says violence along his country's border with the US is fuelled in part by the US opting to deport rather than prosecute criminals.
It was cheaper to send them back rather than try them, Mr Calderon said.
Such people, he said, then joined forces with criminal gangs in Mexico.
Nearly 400,000 illegal immigrants were deported in the past fiscal year, half of whom had been convicted of a crime, US officials said on Tuesday.
President Calderon's remarks came during a speech at an immigration conference in Mexico City.
"There are many factors in the violence that some border cities in Mexico are experiencing but one of them is because the American authorities are deporting some 60,000 or 70,000 migrants a year to cities like Ciudad Juarez and Tijuana," he said.
Among these, "there are many who really are criminals, who have committed some crime, and it is simply cheaper to leave them on the Mexican side of the border than to begin a legal process... to decide if they are guilty or not."
Mr Calderon said the deported criminals then linked up with criminal networks in Mexico.
Figures released by US Customs and Immigration Enforcement (ICE) on Tuesday show that a record 396,906 illegal aliens were removed in 2010-2011.
The majority of these were from Mexico.
The ICE statement said some 55% of the deportees were people who had been convicted of a felony or misdemeanour.
Priorities
When illegal Mexican immigrants finish a prison term in the US, they are taken to the border and freed.
US officials say they warn their Mexican counterparts when former inmates considered dangerous are freed, the Associated Press reports.
However, Mexican nationals with US criminal records cannot be held if they have not broken the law in their home country.
The Obama administration has made it a priority to deport convicted illegal immigrants.
Speaking earlier this month, US Homeland Security Secretary Janet Napolitano said: "It makes sense to prioritise our finite resources on removing a Mexican citizen who is wanted for murder in his home country ahead of a Mexican national who is the sole provider for his American citizen spouse."
Critics say such priorities amount to an amnesty for illegal immigrants.