Q&A: Argentina's presidential election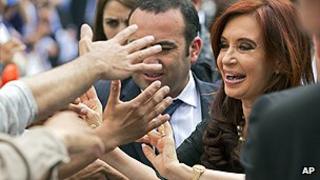 Argentina holds a presidential election on 23 October, with the incumbent, Cristina Fernandez de Kirchner bidding for a second four-year term.
Opinion polls suggest she will win, but she will need a strong mandate if her party wants to change the constitution, as the opposition suspects.
How is the current president scoring?
When Ms Fernandez was elected Argentina's first female president in 2007, she was largely expected to keep the seat warm for the return of her husband, Nestor Kirchner, whom she succeeded.
But, Mr Kirchner died unexpectedly of a heart attack last October.
The president's sorrow over her husband's death has won her widespread sympathy - almost a year later, she is still wearing black and for a time was seen to burst into tears when giving public speeches.
The strongly performing economy should be an advantage for the 58-year-old widow.
She has continued the economic policies of her husband, who was credited with pulling Argentina out of a deep economic crisis a decade ago.
However, the opposition accuses the government of deliberately understating the inflation rate.
Ms Fernandez angered farmers by increasing taxes and restricting exports.
The reform of media laws in 2009 stirred another controversy, with some saying it was an attempt to silence voices critical of the government.
Who are the challengers?
Nationwide primaries in August, which commentators labelled "a very expensive opinion poll", identified Radical Party Senator Ricardo Alfonsin, 60, and former caretaker President Eduardo Duhalde, 70, as the main challengers to the incumbent, with 12.20% and 12.12% of the vote, respectively.
However, recent opinion polls give the socialist governor of the eastern province of Santa Fe, Hermes Binner, 68, ratings of around 16%, compared to the 10%-plus he received in the primaries.
The remaining three candidates, San Luis governor Alberto Rodriguez Saa, 62, Elisa Carrio, 55 and Jorge Altamira, 69, gained 8.17%, 3.22% and 2.46% respectively in the primaries.
The vote for Ms Carrio is thought to be indicative of declining support for the opposition, as she had been a strong competitor against Ms Fernandez in the 2007 elections, when she came in second with 23% of the vote.
Is there an appetite for change?
Yes, there is, according to Argentine political analyst Rosendo Fraga.
"The 50% of citizens who voted for the opposition in the primaries show that there is some space for an alternative," he was quoted as saying by Inter Press Service news agency.
However, for about 63.5% of Argentines the weak and fragmented opposition offers no clear alternative, a recent poll by the Centre of Public Opinion Studies found.
Professor Carla Carrizo of the University del Salvador believes that the opposition is not really trying to win the presidency.
"The predominant idea among the opposition leaders is that they are competing for second place," she was quoted as saying by Inter Press Service.
How does the system work?
The President and Vice-President are chosen directly in two-round elections.
The runoff is scheduled for 20 November, although everything indicates this will not be necessary.
To win outright, Ms Fernandez needs 45% of the vote, or 40% with at least a 10% margin over the second place candidate.
In the primaries she received 50.24% of the vote and opinion polls suggest she will better this result in Sunday's elections, with an average estimate of 53%.
Why does she need a strong mandate?
Ms Fernandez is barred from seeking third consecutive term. She has no prominent political heirs, which could unleash power struggles in her notoriously fractious Peronist party.
That has fuelled speculation that the ruling party might seek to remain in power by changing the constitution from a presidential to a parliamentary system. The current president would then be able to rule as a prime minister.
This has been proposed several times on a local level, but government officials have denied such plans.
Any reform bill would need two-thirds support in Congress to be passed, meaning Ms Fernandez needs strong popular backing to have the upper hand in potential negotiations with the opposition.
What about the Falklands?
The sovereignty of the British-controlled Falkland Islands, which Argentina fought and lost a war over in 1982, is not an election issue.
However, Ms Fernandez has been stepping up pressure on London to enter into talks over the islands during her first term in office and is likely to continue on this course, should she stay in power.
In 2009 Argentina handed documents to the UN formally laying claim to a vast expanse of the ocean, including Las Malvinas, as Argentines call the islands.
Tensions between the UK and Argentina increased at the beginning of last year, when Britain began looking for oil and gas in the waters around the islands.
When in June this year British Prime Minister David Cameron said the issue of sovereignty was non-negotiable, Ms Fernandez called the UK "arrogant", adding that the British "continue to be a crude colonial power in decline".
She raised the issue again during this year's UN General Assembly session, warning that unless the UK abides by existing UN resolutions and begins talks with Argentina, her government might stop an air link between the islands and Chile, by banning them from using Argentine airspace.
BBC Monitoring selects and translates news from radio, television, press, news agencies and the internet from 150 countries in more than 70 languages. It is based in Caversham, UK, and has several bureaux abroad.