Boxer Juan Manuel Marquez's 'political' shorts stir row in Mexico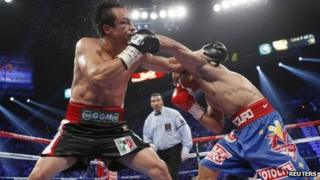 A row has erupted in Mexico after boxer Juan Manuel Marquez wore shorts bearing a political party's logo for Saturday's Las Vegas fight against Manny Pacquiao.
The Democratic Revolution Party (PRD) said that by wearing the logo of the Institutional Revolutionary Party (PRI) he had violated a ban on campaigning ahead of elections.
PRD lost the governorship of Michoacan state to PRI in Sunday's polls.
Marquez said he was simply given the shorts to wear by his team.
When he stepped into the ring with the Philippines' Pacquiao for the world title fight in Las Vegas, Marquez was wearing black shorts emblazoned with the PRI logo.
The PRD filed a complaint with the electoral authorities, arguing that the logo violated a ban on campaigning in the run-up to an election and on campaigning abroad.
The party said many of those at the match at the MGM Grand arena in Las Vegas were Mexican and that millions of Mexicans were watching the fight on television.
"This amounts to the promotion of a party on the international level, something that represents an attack on the equality of political competition in our country," the complaint said.
The National Action Party (PAN) of President Felipe Calderon has also lodged a complaint.
Power play
But Marquez said he did not know there were elections happening in Michoacan.
"Someone in my team put the logo on and I didn't notice. I was focused on the fight," Marquez said.
"I got in the ring without backing any party, I got in to do my work."
Members of the PRI have denied having any involvement in getting Marquez to wear their logo.
"If (the PRD) had won the election, they would be happy and not complaining about anything," PRI federal deputy Guillermo Ruiz de Teresa told Mexican media.
According to preliminary results, the PRI won the governorship in Michoacan, turfing out the PRD after 10 years.
Political jostling is increasing in Mexico ahead of next July's presidential poll, with the PRI bidding to return to the presidency which it lost in 2000.
Before that, it had governed uninterrupted for 71 years.
Meanwhile, Pacquiao's trainer Freddie Roach has said Marquez deserves a rematch after his man retained the WBO welterweight title with a narrow points victory.