Colombia Farc rebel radio station 'shut down' by army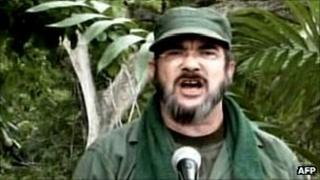 Colombia's army says it has shut down the main radio station operated by the Farc rebels, after 15 years on air.
Troops captured transmitters and other broadcast equipment when they overran a guerrilla camp in the Meta region.
The rebel radio station Voice of Resistance broadcast the Farc's revolutionary message across large areas of eastern and central Colombia.
The army also disrupted its broadcasts last year, but the left-wing rebels got the station back on air.
Troops found the clandestine broadcasting operation in a rebel base protected by some 60 improvised explosive devices, the army said.
The captured equipment included microphones, computers, amplifiers, a mixing console and a generator.
'Indoctrination'
"This is a powerful blow to the Farc terrorist group, as this broadcaster was an important tool for the insurgents' daily work," the army said in a statement.
"For more than a decade it has been fundamental for the political indoctrination of Farc members as well as for broadcasting strong criticism of the institutions of state," it added.
The capture of the radio operation comes two weeks after the Farc leader Alfonso Cano was killed by the security forces.
He has been replaced by Rodrigo Londono - better known by his alias Timochenko.
The Farc (Revolutionary Armed Forces of Colombia) are the country's oldest and biggest rebel group.
The have been fighting to impose a Marxist revolution since the 1960s.
Over the past decade they have suffered a series of setbacks, losing thousands of fighters and several of their top commanders.
But they remain a powerful force in large areas of rural Colombia, thanks in part to money gained from cocaine production and trafficking.