Colombians stage big anti-Farc protests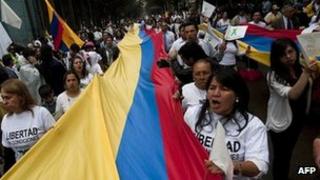 Tens of thousands of people across Colombia have taken part in protests against the country's largest left-wing guerrilla group, Farc.
Wearing white T-shirts, protesters demanded that the rebels free the hostages they have been holding, in some case for more than a decade.
The demonstrators also voiced outrage over last month's killing of four people held by the rebels.
In an apparent response, the Farc promised to free some hostages.
However, a rebel statement did not say who would be freed or when, or if there were any conditions attached to their release.
'Time to end this'
Protest rallies were held in the capital, Bogota, as well as in Cali, Medellin and several other Colombian cities, 10 days after the killing of the hostages - all members of the security forces.
Farc (Revolutionary Armed Forces of Colombia) guerrillas shot them as troops closed in on their camp in the jungle.
One hostage managed to escape alive.
In Bogota, a big rally was staged in the cental square, Plaza Bolivar.
The demonstrators chanted "No more Farc!" and "Freedom!" They also held pictures of those who had been held in captivity by the rebels for years.
"We have tolerated the Farc enough," protester Ruben Castano was quoted as saying by Reuters.
"Santos, it's time to end this," he added, referring to Colombian President Juan Manuel Santos.
Before the demonstrations began, President Santos said: "It's not just the government calling for peace, it's all of Colombia."
Mr Santos has repeatedly stated that he is ready to start talks with the rebels if they stop attacks and abductions, and also lay down their weapons.
Mr Santos's government has recently inflicted some severe blows to the Farc, including the killing of the group's leader Alfonso Cano last month.
The Farc - Colombia's biggest and best organised rebel group - has been fighting to overthrow the government since the 1960s.
The rebels still hold 10 members of the security forces, as well as dozens of civilian captives.