Venezuela honours Simon Bolivar with new coffin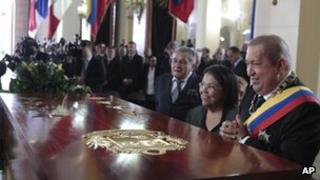 Venezuelan President Hugo Chavez has unveiled a new coffin containing the remains of 19th Century South American independence hero Simon Bolivar.
The mahogany coffin, encrusted with diamonds, pearls and golden stars, was revealed at a ceremony to mark the anniversary of Bolivar's death in 1830.
"You live on in us," Mr Chavez said in a speech beside the coffin.
President Chavez often draws parallels between his socialist revolution and Bolivar's liberation struggle.
Last year, he ordered the exhumation of Bolivar from his tomb so scientists could examine whether he had been murdered rather than dying from tuberculosis as many historical accounts maintain.
But the scientists found no proof that he had been deliberately poisoned.
Known as "the Liberator", Simon Bolivar led the 19th Century revolutionary war against Spain, winning independence for Venezuela and several other South American nations.
The Venezuelan president claims him as the inspiration for his "Bolivarian" revolution, though some historians say Bolivar would not agree with Mr Chavez's socialist policies.