Peru allows Lori Berenson to fly to US on parole visit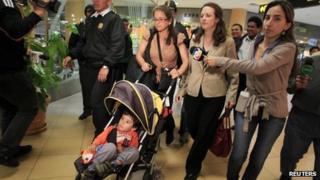 An American woman who has served 15 years in prison in Peru for aiding left-wing rebels is back in the United States on a parole visit.
Lori Berenson flew into New Jersey on Tuesday morning - the first time she has returned to US soil since Peruvian authorities arrested her in 1995.
The 42-year-old, joined by a US embassy employee, said she would go back to Peru next month, as ordered by a court.
Berenson's release on parole last year drew heavy criticism in Peru.
Last week, a judge said she could travel to see her family in New York City as long as she returned to Peru by 11 January.
However, many Peruvians do not expect her to come back.
Terrorist collaboration
Officials prevented Berenson from boarding a flight from the capital, Lima, last Friday, saying her paperwork was not in order.
But she was allowed on Monday to leave the country with her two-year-old son.
Berenson was granted parole last year after serving 15 years of a 20-year sentence.
The daughter of university professors from New York, she travelled to Central and South America in the 1990s.
In Peru, she became involved with the Tupac Amaru Revolutionary Movement, which robbed banks, kidnapped and killed a number of people in the 1980s and 1990s.
Berenson was arrested in November 1995 and accused of gathering information for a rebel plot to kidnap members of Peru's Congress and exchange them for imprisoned rebel leaders.
She was convicted of treason by a military court in 1996 and sentenced to life in prison.
But amid US government pressure, Berenson was retried in a civilian court and found guilty of the lesser crime of terrorist collaboration.