Mexico bus attackers shot dead after killing spree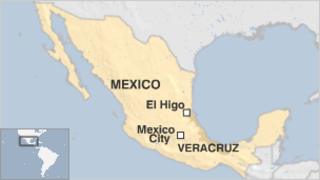 Security forces in the Mexican state of Veracruz shot dead five gunmen who had attacked three buses, officials said.
The gang first shot four people in the town of El Higo before ambushing three buses and killing seven passengers.
The killings came a day after the Veracruz government disbanded a police force elsewhere in the state to try to tackle corruption and improve security.
The Navy has taken over policing duties in Veracruz-Boca del Rio municipality.
Local media described Thursday's shootings as a robbery spree.
A spokeswoman for the state government said gunmen killed four people in El Higo in the north of the state.
The attackers then stopped three buses on a highway, killing a total of seven people.
In a subsequent shoot-out, security forces killed the five gunmen.
Veracruz, on Mexico's eastern coast, has seen a rise in killings in recent months.
Much of the violence has been blamed on a battle for control of drug-trafficking routes between two of Mexico's most powerful drugs gangs - the Zetas and the Gulf Cartel.
More than 40,000 people have been killed in drug-related violence in Mexico since December 2006, when Mr Calderon began deploying the military to fight the gangs.