Peru holds mass end-of-year wedding for 92 couples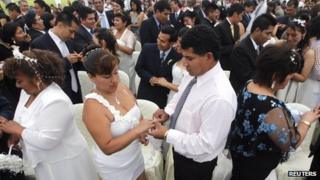 Peru's capital, Lima, has held a mass wedding for 92 couples, the last group ceremony of the year.
The brides and grooms, ranging in age from 18 to 74, were married in a ceremony conducted by the city's mayor.
Mass weddings are becoming more popular in Peru - not least because they are far cheaper than individual ceremonies.
"We fulfilled our desire to get married after living together for 34 years," said Carmen Mercado, 64, who wed her partner, 74-year-old Jorge de la Cruz.
The couples paid some $10 (£6) for the joint ceremony, instead of the usual $142 (£95) fee in Lima.
The group took their vows and exchanged rings at the same time during Tuesday's wedding.
Among the newly-weds were Edger Pasapera, 19, and Luisa Viera, 18, who met in school.
People had tried to keep them apart, Edger told Reuters.
"Thanks to God and the love we have for each other, we are still together. We already have a beautiful baby who was born a fortnight ago."
Lima Mayor Susana Villaran presided over the event.
"This is part of the city's celebration of the end of the year," said official Eva Revoredo who assisted with the ceremony.