Chile Education Minister Felipe Bulnes resigns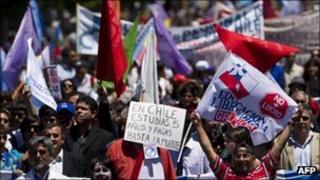 Chilean Education Minister Felipe Bulnes has resigned after less than six months in the job, during which he has faced huge student protests demanding educational reform.
Mr Bulnes stepped down "for personal reasons", a government spokesman said.
Agriculture Minister Jose Antonio Galilea resigned for similar reasons.
It is the fourth cabinet reshuffle this year by President Sebastian Pinera, whose approval rating has plunged to 23%, according to a new opinion poll.
Mr Bulnes is the second education minister to resign since President Pinera took office in March 2010.
His predecessor Joaquin Lavin stepped down in July in the face of massive protests by students and teachers that closed many schools and universities and led to violent confrontations with police.
'Desperation'
Mr Bulnes's negotiations with student leaders broke down because the government would not accept their demands for free, universal and not-for-profit education.
He has been replaced by economist Harald Beyer, a specialist in education who advocates reform but does not believe that free university education is the answer.
Student leader Camila Vallejo told Radio Cooperativa that the change showed the "desperation" of the government, which had not been able to address the problems in Chile's education system.
The campaign for educational reform is the biggest protest movement Chile has seen since the return to democracy in 1990.
Protests have subsided in recent weeks as Chile entered the summer holiday period.
But the new leader of the Federation of Chilean Students, Gabriel Boric, has promised that demonstrations will resume in March using new tactics.
Mr Boric, who replaced Ms Vallejo as overall student leader in elections earlier this month, advocates a more radical approach.