Guatemala's Alvaro Colom wants wife back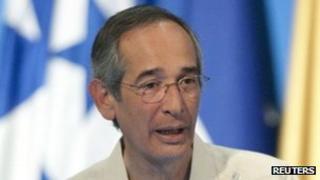 Guatemalan President Alvaro Colom says he wants to repair relations with his former wife, Sandra Torres, months after they divorced to allow her to run for the presidency.
The couple separated because under Guatemalan law the incumbent's spouse is banned from seeking election.
But the authorities considered the divorce a sham and refused to allow Ms Torres to stand in September's poll.
Otto Perez Molina won the election and takes office on Saturday.
"I intend to recover a relationship that became very complicated last year," said Mr Colom in an interview with local broadcaster Radio Sonora.
"I don't know whether I'll be successful, but I'll make the effort and we must give it time."
The president said he would seek a private reconciliation with Ms Torres after Saturday, when he hands power to Mr Molina.
Mr Colom and Ms Torres had been married for a decade when they divorced in April last year, so that she could register as a presidential candidate.
Announcing her candidacy, Ms Torres said she had divorced her husband "for the people, for my country, for the elderly, the children, the disabled, the abandoned, the orphans, for all those in need in Guatemala".
But Guatemala's Electoral Tribunal and courts considered the divorce a sham, and refused to accept her registration.