Guatemala congressman Valentin Leal shot dead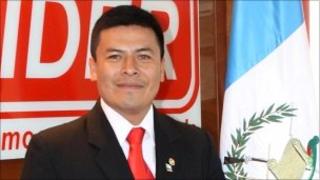 A Guatemalan congressman and his brother have been shot dead in Guatemala City, a day before the new government is due to take office.
Valentin Leal Caal was attacked by gunmen on a motorcycle as he was being driven through the city centre.
He had recently agreed to defect to the party of the president-elect, Otto Perez Molina.
Mr Perez Molina, 61 - a former general - was elected last year after promising an "iron fist" against violent crime.
Police said 17 bullets hit Mr Leal's car in the attack, which happened close to the Congress building.
He and his brother Erick died at the scene and his bodyguard was wounded.
Mr Perez Molina said: "We lament the violence and insecurity, it is sad that these kind of situations keep happening."
He added that Mr Leal had received numerous threats since he was re-elected to Congress last September, and had been thinking of going into hiding.
Violent legacy
Mr Leal represented the northern region of Alto Verapaz, where Guatemala's security forces have been struggling to contain the influence of Mexico's Zetas drugs cartel.
He stood for election as a member of the right-wing opposition Lider Party, but a few days ago agreed to join Mr Perez Molina's Patriotic Party.
Political violence is not unusual in Guatemala, which emerged from a 36-year civil war in 1996.
The country has one of the highest murder rates in the world, but few killers are ever brought to justice.
Much of the violence is blamed on street gangs and drug traffickers with links to Mexico's cartels, but senior figures in politics and the military have also been implicated.
Since 2008 a UN-backed International Commission against Impunity in Guatemala has been working to reform the justice system and tackle organised crime.
Mr Perez Molina, who is the first former military figure to lead Guatemala since the end of the civil war, has promised to boost police numbers and deploy troops to combat violent crime.