Stand-in guilty of Brazil politician's murder in 1998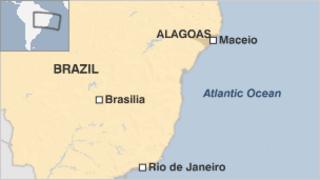 A Brazilian court has found five men guilty of killing congresswoman Ceci Cunha and three of her relatives in a crime that shocked the country in 1998.
Mrs Cunha, her husband and two other family members were shot dead in Maceio, capital of Alagoas state.
Talvane Albuquerque, who at the time was Mrs Cunha's stand-in as deputy, was found guilty of ordering her murder.
The prosecution argued he wanted her dead so he could take her seat in Congress.
Legal wrangling
The trial of Mrs Cunha's suspected killers had been delayed for years amid legal wrangling.
But on Monday the case finally came to court in Maceio, streamed live on the internet and lasting three days.
Albuquerque was sentenced to more than 103 years in prison, while the other four men on trial with him also received long jail terms.
Mrs Cunha, her husband, brother-in-law and mother-in law were visiting her sister when gunmen broke into the house and opened fire.
The only one to escape alive was Mrs Cunha's sister with her newly-born baby.
Albuquerque took Mrs Cunha's seat in the Chamber of Deputies after her death.
But he was stripped of the post a few months later after accusations that he was involved in her murder surfaced.