Argentina Senate condemns Cameron's Falklands statement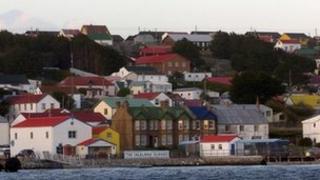 Argentina's Senate has condemned a statement by the UK prime minister in which he criticised Argentina's attitude towards the Falkland islands.
David Cameron told MPs Argentina had a "colonialist" attitude to the islands.
Senators said they wanted a "peaceful" end to the dispute over the islands, which Argentina calls the Malvinas.
Argentina has demanded talks over the South Atlantic territory's sovereignty but the UK says it will remain British for as long as its inhabitants want.
Tension has been increasing ahead of the 30th anniversary in April of the two countries' war over the territory.
Buenos Aires has accused Britain of breaking a United Nations resolution forbidding unilateral development in disputed waters, by beginning oil drilling under a seabed off the Falkland Islands.
In a statement, the Senate's Foreign Relations Committee said they condemned "any acts of exploration or exploitation of natural resources in the illegally occupied territories by foreign powers, such is the case of the Falklands".
The senators said "the Argentine Parliament and all related political forces demand that the United Kingdom starts accepting the UN resolution over the Malvinas matter".
The legislators insisted their claim over the islands will be sought via diplomatic channels only.
The issue of the Falkland Islands' sovereignty was also raised in the House of Commons on Thursday, with Chairman of the Defence Select Committee James Arbuthnot saying the UK would not let them go.
"If the Falkland Islands were by any chance to be retaken by Argentina, we would take it back," he said.
"Argentina should be in no doubt of that at all."
Fernandez criticism
On Wednesday, making her first public appearance after undergoing surgery, Argentine President Cristina Fernandez de Kirchner criticised David Cameron's earlier remarks which had come during prime minister's questions in the House of Commons on 18 January.
Her comments came mid-way through a speech to supporters at the Argentine Presidential Palace in Buenos Aires.
Mrs Fernandez said that people only spoke in such a way when they did not have solid arguments.
"I heard that they were calling us, the Argentines, colonialists," Mrs Fernandez told a packed auditorium after 20 days of medical leave for thyroid surgery.
"One always is tempted to respond and such, but... it is necessary to avoid it because one says such things when one has no reasons nor arguments."
She added: "They are trying to paint us as bad guys, or violent guys and really, that is not who we are."
Mr Cameron also outraged many in Argentina with his accusation and last Friday protesters marched on the British embassy in Buenos Aires, burning the Union flag, and demanding that diplomatic ties with London be severed.
BBC correspondent Fergal Keane in Buenos Aires says there is no mood in Argentina for military adventurism and the government will instead continue its policy of trying to isolate Britain diplomatically.
The strategy is to invoke regional solidarity with support from countries like Brazil.
Argentina will portray itself as a Latin American nation whose resources of oil and fishing around the islands are being pillaged by outsiders, our correspondent says.