Peru fire: More regulation urged for drug rehab centres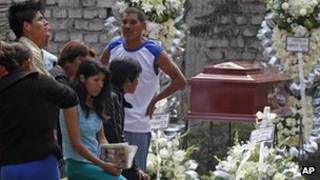 Rights groups in Peru have called for batter regulation of drug rehabilitation clinics after a fire at an unlicensed centre killed 27 people.
A blaze swept through the Christ Is Love centre in the Peruvian capital, Lima, on Saturday.
Firefighters said the doors were locked, trapping patients inside; some jumped from windows to escape as flames engulfed the three-storey building.
The centre's owner has handed himself in to police.
"In Peru, there are are more than 260 centres called 'treatment communities' but only 20% of them have licences and trained staff," Milton Rojas, from the drug abuse and prevention group Cedro, told the AFP news agency.
Officials are investigating whether recovering addicts were held at the centre against their will or subjected to abuse.
Health Minister Alberto Tejada has said that the Christ is Love centre was not licensed and had twice been ordered to close.
It is now known that 27 people, all men, died in the blaze - most of smoke inhalation. Several others were injured.