Colombia President Santos condemns hostage delay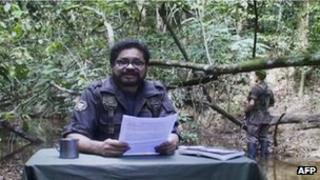 Colombian President Juan Manuel Santos has condemned the left-wing rebel group, the Farc, for indefinitely delaying the release of six hostages.
The rebels announced that they would now not unilaterally free the six, whom they have held for more than a decade.
They blamed "heightened military activity" for the delay in the release.
Mr Santos said there should be "no more tricks and deception", pointing out that the rebels had not even provided a location for the planned handover.
In a statement, the rebels said that the area they had chosen for the handover of the hostages had been "unjustifiably militarised" by the government.
'Lies and deception'
But Minister of Defence Juan Carlos Pinzon said the rebels had not yet given the government an area for the planned release, and that therefore, the government could not be responsible for any heightened military activity.
"The Farc are lying, because they haven't given us the co-ordinates," Mr Pinzon said.
The rebels said they would free the hostages "once the insanity which has taken hold in the Palace of Narino (presidential palace) has abated".
In a letter released at the beginning of December, the Farc had announced they were considering freeing a number of hostages, but at the time did not specify who they would set free or when.
Since then, the rebels have named the six hostages they said they would free.
They are Cesar Augusto Lasso, Carlos Jose Duarte, Luis Alfonso Beltran, Jorge Trujillo Solarte, Jorge Humberto Romero and Jose Libardo Forero.
All six are members of Colombia's security forces and have been in captivity for more than 12 years.