Panama ex-leader Manuel Noriega taken to hospital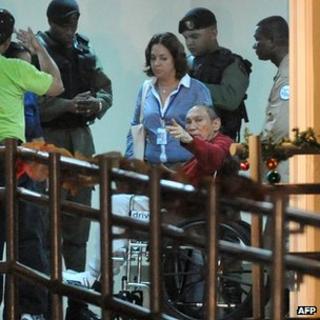 Former military leader of Panama Manuel Noriega has been moved from his prison cell near Panama City to a hospital.
Prison authorities had moved him because they thought he may have had a stroke.
But Panamian Health Minister Franklin Vergara said his condition was stable and tests had not shown any evidence of a stroke.
General Noriega, 77, is serving a prison sentence for the murder of political opponents.
He led the country for six years before being removed from power when the United States invaded Panama in 1989.
He was extradited to Panama in December after serving lengthy sentences in France and the United States for money laundering and drug trafficking.
Jail terms
Mr Vergara said the general was conscious and lucid.
Noriega had been in El Renacer jail, south-east of Panama City, since his extradition from France on 11 December.
There had been speculation he would be allowed to leave El Renacer as Panama allows convicts 70 years and older to serve their sentence at home, but so far the Panamanian authorities have kept him in prison.
Although he was never president, Gen Manuel Noriega served as Panama's de facto leader between 1983 and 1989.
Once a US ally, he was arrested by invading American troops in January 1990, amid allegations he had turned the Central American nation into a drug-trafficking hub.
He spent 20 years in prison in the US after being convicted there for drug trafficking.
In 2010, he was extradited from the US to France, where he had been convicted in absentia of laundering money from Colombian drug gangs through a French bank to buy property in Paris.
He received a seven-year jail sentence from the French court.