Brazil police-army stand-off amid talks to end strike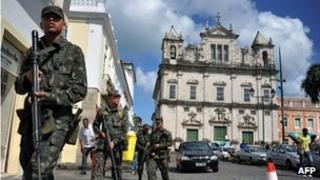 Brazilian troops are continuing to surround the state legislature in Bahia, which some 300 police officers have occupied for the past week in a pay dispute.
Bahia Governor Jacques Wagner told local media that a negotiated end to the crisis was in sight.
The strike has led to a spike in crime in Bahia, including a big jump in murders in the capital, Salvador.
Salvador is one of the venues for the football World Cup in 2014.
The Bahia government says about one third of the 30,000 state police officers are involved in the industrial action for better pay and working conditions.
The most visible action has been the occupation of the state legislature by police officers and their families.
Soldiers fired rubber bullets and charged demonstrators outside the building on Monday, as the stand-off continued.
Troops and federal police are still surrounding the site but they have allowed food and water into the building. Some family members have also left the legislature.
Gov Wagner said talks had continued overnight and were due to resume later.
"When you negotiate for so long, it means you are heading in the right direction," he told Globo News television.
Gov Wagner has said that the budget is limited but has offered to look at phasing in wage rises over the next three years.
He has, however, said that the strike is illegal and accused some of the officers of violent tactics.
After the stoppage began on 31 January, crime rose in Bahia and some 100 people have been killed - more than double the usual murder rate.
Since some 3,000 extra forces began patrolling the streets on Sunday, violence has decreased.
Salvador is preparing for Carnival celebrations which are attended by tens of thousands of tourists every year.