Ricardo Teixeira to stay on as Brazil football boss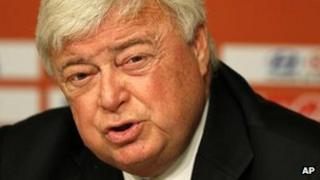 Ricardo Teixeira is to stay on as the head of the Brazilian Football Confederation (CBF) despite recent calls for his resignation amid renewed corruption allegations.
Local football federations voted unanimously to confirm Mr Teixeira in the post he has held for 23 years.
He is also to remain as head of Brazil's organising committee for the 2014 World Cup.
Mr Teixeira, 64, has always denied any wrongdoing.
There had been growing media speculation that Mr Teixeira would stand down, after new corruption allegations surfaced.
But in the end the football federations in Brazil's states gave their backing to Mr Teixeira.
"The participants declared once again, unanimously, their support for President Ricardo Teixeira," a CBF statement said after an extraordinary general assembly.
However, Brazilian media reported that Mr Teixeira may take a leave of absence in the near future for medical reasons.
In 2001, the Brazilian Congress investigated Mr Teixeira on suspicion of 13 crimes, including tax evasion, money laundering and misleading lawmakers, but no charges were brought.
Mr Teixeira has also been investigated for allegedly taking kickbacks from marketing firm ISL, which worked closely with Fifa in the 1990s.
He denied the accusation as "nonsense".