Venezuela's Hugo Chavez heads to Cuba for more surgery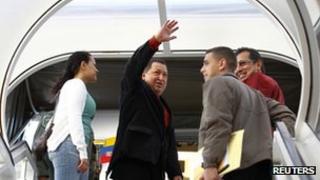 Venezuelan President Hugo Chavez has left Caracas for more cancer treatment in Cuba.
Mr Chavez, 57, is expected to undergo an operation on a lesion which he says is probably malignant.
He gave an emotional farewell to his supporters, telling them he would fight for his life, and promised to return to stand for re-election in October.
Last year, Mr Chavez said he was free from cancer after undergoing surgery and chemotherapy in Cuba.
"With cancer or without cancer, with rain, thunder or lightning, nothing and nobody can prevent the great victory of 7 October," he said referring to the date set for the presidential election.
Critical time
Before boarding his flight to Havana, Mr Chavez said he would defeat "this new difficulty".
The exact nature and extent of his illness has never been made public, leading to persistent rumours that his health is worse than officially acknowledged.
Mr Chavez had surgery and four rounds of chemotherapy in Cuba last year after a baseball-sized growth was detected in his pelvic region.
In October, the president had said he was free from cancer, but earlier this week, he announced he would require another operation.
The new surgery is expected to take place next week and will be carried out by the same team of doctors who have treated him before, Mr Chavez said.
This latest trip to Cuba comes at a critical time, as the president prepares to campaign for re-election to another six-year term.
His challenger in October's election is Henrique Capriles Radonski, a state governor who won an opposition primary earlier this month.