Argentine train crash: Brake warning denied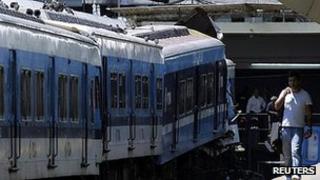 An Argentine railway company has denied a driver's claims that he warned of brake problems prior to a crash that killed 51 people.
Driver Marcos Cordoba said he had called controllers "at every station" but was told to "carry on".
Trenes de Buenos Aires (TBA) has blamed the accident on what it called "human error".
More than 700 people were injured when the train slammed into buffers as it came into a Buenos Aires station.
"The train completed its route without there having been confirmed, or even reported, any irregularities, prior to the crash in the Once station," TBA said in a statement.
Driver Marcos Cordoba, 28, is being investigated by police in connection with the crash.
He was injured in the crash and had to be cut from the wreckage by firefighters.
Mr Cordoba reportedly told investigators he had alerted the control room to the braking problem.
"At every station, I radioed the controller and told him I was having problems with the brakes; and they'd just tell me: 'carry on, carry on'," Mr Cordoba was quoted as saying by Noticias Argentinas news agency.
Judge Claudio Bonadio has allowed Mr Cordoba to go home but told him to report to the prosecutor's office weekly.