Cuba leaders Raul and Fidel Castro's sister Angela dies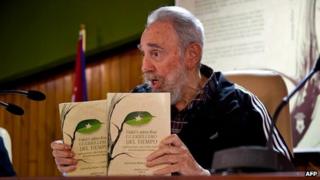 Angela Castro - the eldest sister of Cuban leaders Fidel and Raul Castro - has died in Cuba after a long illness, another sibling says.
Angela, 88, was the eldest of the seven Castro siblings and the first to die.
Her death was confirmed by her sister Juanita, who lives in the US. It has not yet been announced by Cuban state media.
Fidel and Raul Castro have generally kept their private lives separate from their public roles.
Angela Castro died in a clinic in Havana surrounded by her children, Juanita told the Associated Press.
"She had been in a very delicate situation for some time," she said.
Angela Castro was the first child born to Spanish migrant Angel Castro and his second wife, Lina Ruz, in eastern Cuba.
Fidel Castro, 85, was the third child, and Raul, 80, was the youngest.
Fidel Castro took power in the revolution of 1959 and ruled Cuba for nearly half a century before ill-health led him to hand power to his brother Raul.
Since he stepped down as president, his health appears to have recovered, and he makes occasional public appearances.
Over the years, his death has been wrongly reported several times.
Since taking over as president, Raul Castro has launched widespread economic reforms designed to update Cuba's socialist system.