Colombia chief prosecutor Viviane Morales resigns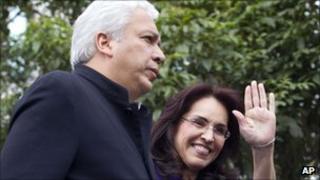 Colombia's chief prosecutor, Viviane Morales, has resigned, days after a court ruled that her appointment in 2010 was invalid.
Ms Morales said she was stepping down because the ruling by the Council of State had undermined her position.
She defended her performance, saying she had tackled "the biggest cases of corruption" in Colombia.
Ms Morales had been under intense scrutiny since her marriage last year to a controversial former guerrilla.
The Council of State ruled on Tuesday that her election by the Supreme Court was invalid because there were not enough judges present when the vote took place.
'Inhuman attacks'
President Juan Manuel Santos - who nominated her for the role of chief prosecutor - expressed regret at her departure.
He said she had performed the role with "great dignity, great efficiency, great transparency and great character".
In her resignation speech, Ms Morales said that, under her leadership, the Prosecutor's Office had brought charges in relation to the most serious cases of corruption in Colombia.
Those accused were either "in prison or on the run," she said.
"On my watch there were no untouchables."
Ms Morales complained that she had been the victim of "perverse and inhuman attacks" by journalists and media seeking to force her resignation.
Ms Morales had been criticised over her marriage to Carlos Alonso Lucio, a former congressman and ex-member of the demobilised M-19 guerrilla group, which has been linked to right-wing drug paramilitaries and drug traffickers.
During her period in office she had led prosecutions against several close associates of the former President Alvaro Uribe, including former ministers, for alleged corruption and criminal conspiracy.
Among them were senior officials accused of ordering the DAS intelligence agency to spy on some of Mr Uribe's political opponents.
DAS was disbanded as a result of the scandal.
Ms Morales was the first woman to serve as chief prosecutor, which is considered one of most important public roles in Colombia.