Argentine freight train hits school bus, injuring 10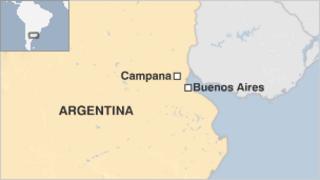 An Argentine freight train has hit a school bus that had reportedly broken down on a level crossing in Campana, 69km (43 miles) north of Buenos Aires.
Ten people, including seven children, were hurt in the crash but officials said none of the injuries was serious.
Monday's accident came less than a fortnight after a deadly train crash in a suburb of the capital left 51 dead.
The investigation into that crash is continuing, amid renewed criticism of the state of Argentina's railways.
The bus, with some 90 students on board, is believed to have stalled on the crossing, with the driver unable to move the vehicle away in time.
The freight train dragged the bus for several metres.
The crash happened just outside a station as the train was travelling at a slow speed, said officials.